Pools are a great investment for any home. However, it's not the end once the contractors install your pool. If you want to continue enjoying your pool for years to come, you need to replaster and maintain it when it's time. Rely on JR Pool Plastering & Texas Gunite Ltd. to properly replaster your pool with our pool services and expertise. 
What is pool plaster?
Plaster is the "skin" or surface that separates the pool water from the concrete pool shell. It creates a smooth surface and provides a watertight seal between the water and the rough shell beneath. Plaster is often a mix of Portland cement, limestone sand, and water. It can come in many colors, although the standard choice is white plaster.
It's been around since people first started building pools and remains a popular, timeless choice for the surface of your pool. Deciding on the color or subsequent replacement is an important part of any pool remodeling project. Popular choices instead of plaster include tile or aggregate stone. Tile can effortlessly meld into the tile coping while aggregate is smooth and provides a textured look.
 Whether you decide to stick with pool plaster instead of tile or other options, JR Pool Plastering & Texas Gunite Ltd. can help you change up or replaster your pool. We can show you how even a basic or slight change to your pool can make it completely new to you. Take a good look at your current pool and start imagining the possibilities!
 

Pool Plaster + Time = Replastering Time

Even though your pool plaster looked fantastic during its initial installation, time, usage, and general wear and tear can cover its original color, luster, and design. In cases of inconsistent maintenance, lack thereof, or a fair share of extreme weather, your pool plaster may endure stains, corroded surfaces, cracks, etc. If you leave these problems alone for too long, it could lead to a number of aesthetic and health-related issues. Replastering your pool can freshen up your pool's look and give it the makeover it needs to return to its former glory. 
When's the best time to replaster my pool?
Our pool remodeling experts suggest replastering your pool about every 10 years. Technically, you can replaster you pool whenever you feel like it's time for a change. Of course, remodeling any part of your pool takes time and and money, so you have to determine if the replastering project is a worthwhile investment. 
You'll usually see most of the wear and tear affect your pool plaster after a decade. The life span of most cement and pool plaster materials usually only lasts anywhere between seven to twelve years. Constant use, pool chemical exposure, and seasonal climates can wear out the plaster, so you might even start seeing damage at three years at the earliest. Whether you start seeing problems or get tired of the same design, we suggest getting it out of the way by the 10-year mark to ensure nothing's wrong. 
We also suggest replastering your pool if there are cracks or noticeable damage to your pool plaster. Replastering your pool is safer than shoddy repairs. If not done properly, those cracks and damage can harbor and hide bacteria, fungi, dirt, decomposing matter, and other unideal substances within your pool. In the worst-case scenario, your pool can become an environment stock full of waterborne problems.
But that's all the technical and serious reasons to replaster your pool. Real life doesn't come down to a geometry problem with a list of proofs. Seeing the same scene for years on end can bore anyone. Sometimes, you just have to ask yourself – is it time for a change? If the answer's yes, it may be time to replaster your pool.
Whether you're replastering the pool with the same plaster color or changing it up, you will see a noticeable difference. Even replastering your pool to fix the problems can make the entire project worth it. Let the experts from JR Pool Plastering & Texas Gunite Ltd. show you all your options before you decide to go all-in on your pool remodeling project.
Keep your pool plaster up-to-date by calling JR Pool Plastering & Texas Gunite Ltd. to the scene. We have the latest technology and techniques to ensure your new pool plaster will look better than before. Choose your colors and designs to create a comprehensive look in your pool area.
 

Take Advantage of Replastering Your Pool

 

 Your pool is the centerpiece of any at-home oasis. Every detail matters when you're remodeling your pool. Although you and your guests will notice the entire landscape, what's the most noticeable detail of your pool? It's the plaster (or whatever lining you decide for the surface of your pool)! If your pool is in disrepair or the color has faded, it'll impact the overall design of your pool area.

When you speak with the team from JR Pool Plastering & Texas Gunite Ltd., you'll see that your options are more than white or gray plaster. Try almost every color under the sun! Take advantage of replastering your pool to completely or partially remodel your pool.
 

Where should I start with remodeling my pool?

Let's start with the size of the project. Even the smallest changes can change the outlook of your pool's overall design. For example, even if we only replaster your pool or change up the color, you'll notice the difference before and after our team completes the project. You can take advantage of the necessary replastering to think about any other changes you may want to make to your pool while JR Pool Plastering & Texas Gunite Ltd. is on the scene.

Our team has helped many other homeowners remodel their pool. You can check out our previous work and get better insight on what we can do. Get inspired with fresh designs from others in our large Houston community and transform them into your pool. Here's a few grand ideas that you can do by simply changing out the plaster:
Do you like the feeling of swimming in the deep end? Choose a darker plaster color. Having a darker plaster color creates the illusion that your pool is deeper than it really is. Not to mention, it's more energy efficient because it absorbs the warmth of the sun better and keeps the water a nice comfortable temperature.
Do you want your pool to better blend into the landscape? Choose a more natural-toned color. Tans, browns, earth yellows, or even gray can give a warmer tone that can blend into the surrounding landscape easier than harsher colors.
Do you want to keep it modern? Choose a cool-toned color. Blues, greens, grays, and purples can make any pool take on a chic appearance. With some sharp lines and sleek accents, you can modernize your old pool with a simple color change.
Of course, if you have a grander scene in mind, replastering might not be the end. Our team can completely remodel your pool if that's what it takes for your vision to be realized. Speak with our experts to learn what's possible to remodel and what your options are. We'll work with you to ensure your newly remodeled pool is perfect.
What To Expect After Replastering Your Pool
Plastering your pool is often one of the last steps to remodeling your pool. Although the main purpose is to seal your in-ground concrete pool, that doesn't mean you can't spice it up with some designs or color to bring together the overall design. However, there are a few points you should know about plastering.
Pool plaster can change colors or its overall look while it sets and cures. What you see when our team initially finish the project can change after it's done drying. The plaster is applied by hand, so expect some unevenness in application and color throughout the pool. That's why no pool is the same as another.
After the plaster sets, it's important to maintain the correct water chemistry. Although the plaster's color will naturally have some variation, an imbalance in the pool chemicals can make those variations wider and more obvious. Learn more how you can create a unique pool to you through replastering your pool from JR Pool Plastering & Texas Gunite Ltd.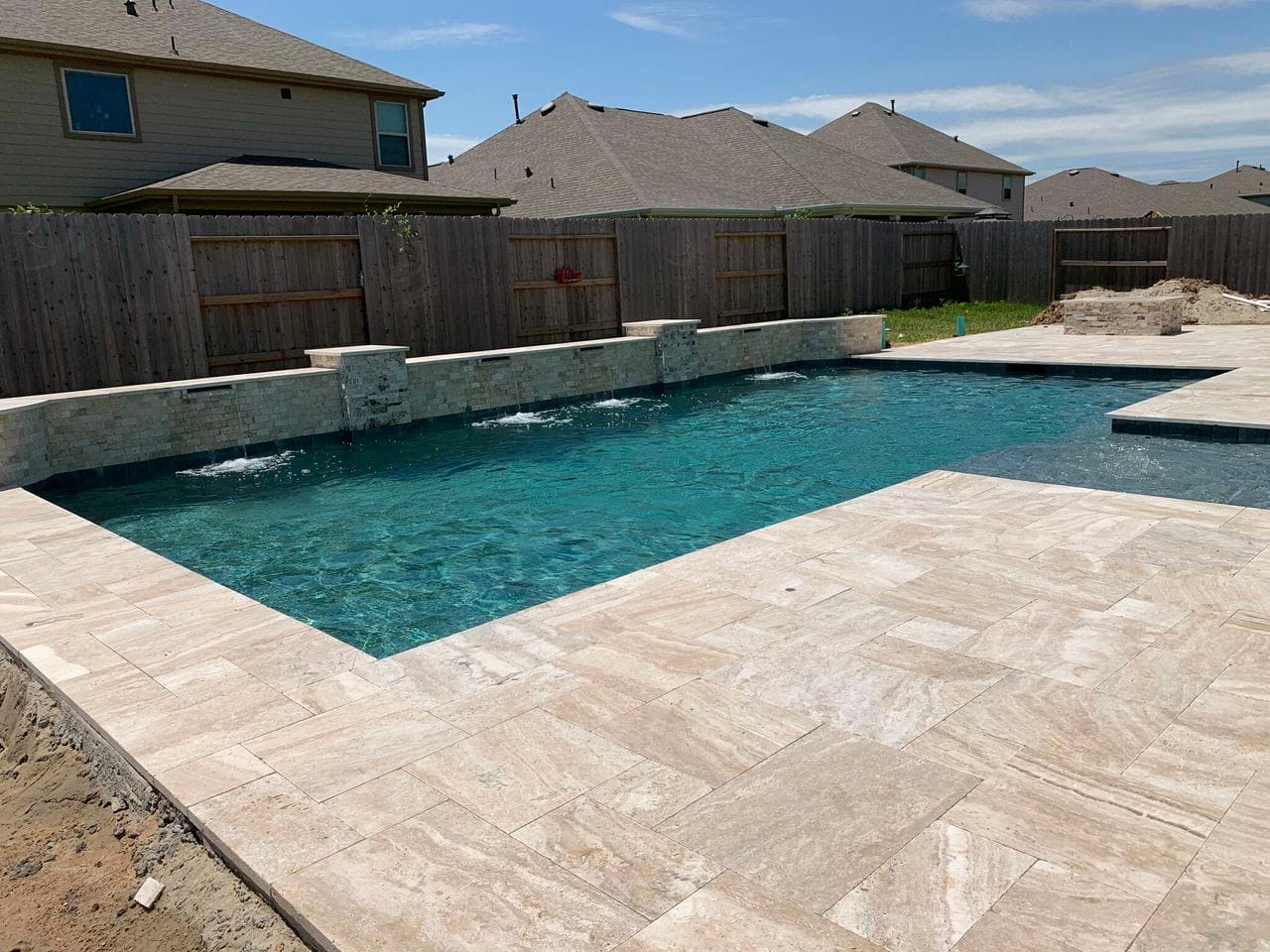 Replastering Starts With A Call

 

Replastering is only the start. JR Pool Plastering & Texas Gunite Ltd. has experience with remodeling many pools, so you can always ask our experts different ways to implement an idea you have. Who knows? A simple replastering project can become the spark to future ideas that will turn your poolside area into the perfect personal oasis.

Our team has pool financing services that can help you replaster or remodel your pool as you like. You can also learn more and get more insight on our other services through our regular blog posts. Call our team today to schedule an estimate with JR Pool Plastering & Texas Gunite Ltd. We've worked with pool owners throughout the greater Houston area.

When you need a reliable team of experts, don't hesitate to call us to the scene. We'll give you the rundown of the entire process and walk through everything step-by-step with you to ensure replastering your pool is exactly what you want and need.