Have you ever heard the sound of a waterfall or the running waters of a creek? If you have, then you know how relaxing they can be. Now imagine having something similar added to your own pool. The look and design of pools today have grown and evolved immensely over the years. They are no longer just about being a place for kids to stay cool and have fun in the summer anymore.
Now they are a place for many to spend time with their closest friends and family and a place of tranquility. Just think how good it will feel coming how from a long hard day of work to your personal oasis complete with water features such as sprinklers, fountains, lazy rivers, or even your own waterfall. The sounds of the running water can soothe and relax your mind and help put you back in a calm state of mind.
Turn Your Backyard into a Private Lagoon with a Waterfall
There is no better feeling than coming home to a space that is all yours and looks gorgeous. Here at JR Pool Plastering & Texas Gunite Ltd, we aim to provide all our clients with the space they've always dreamed of. By adding water features, homeowners can create pool spaces unlike anything ever seen before.
When you think of a lagoon, you might think of a hidden little cove complete with gentle waterfalls cascading over rocks down into cool, clear waters. With our talented designers, you, too, can have this private hidden gem right in your very own backyard.
Waterfalls add numerous benefits other than simply looking nice. They can help block out noise, which will allow you to relax better. Imagine being able to close your eyes and feel like you are in the middle of a tropical jungle hidden away. A waterfall is the perfect addition to help you forget about the current world, even if just for a moment.
In addition to helping you relax, waterfalls can improve circulation and keep the pool cooler. Water that is unmoving for long periods of time can often get stagnant and soak up a lot of heat. When you want to cool off, you don't want to feel like you are swimming in warm, stagnant bath water. You want to be in clean, cool, refreshing water, and a waterfall can help keep your pool that way for longer.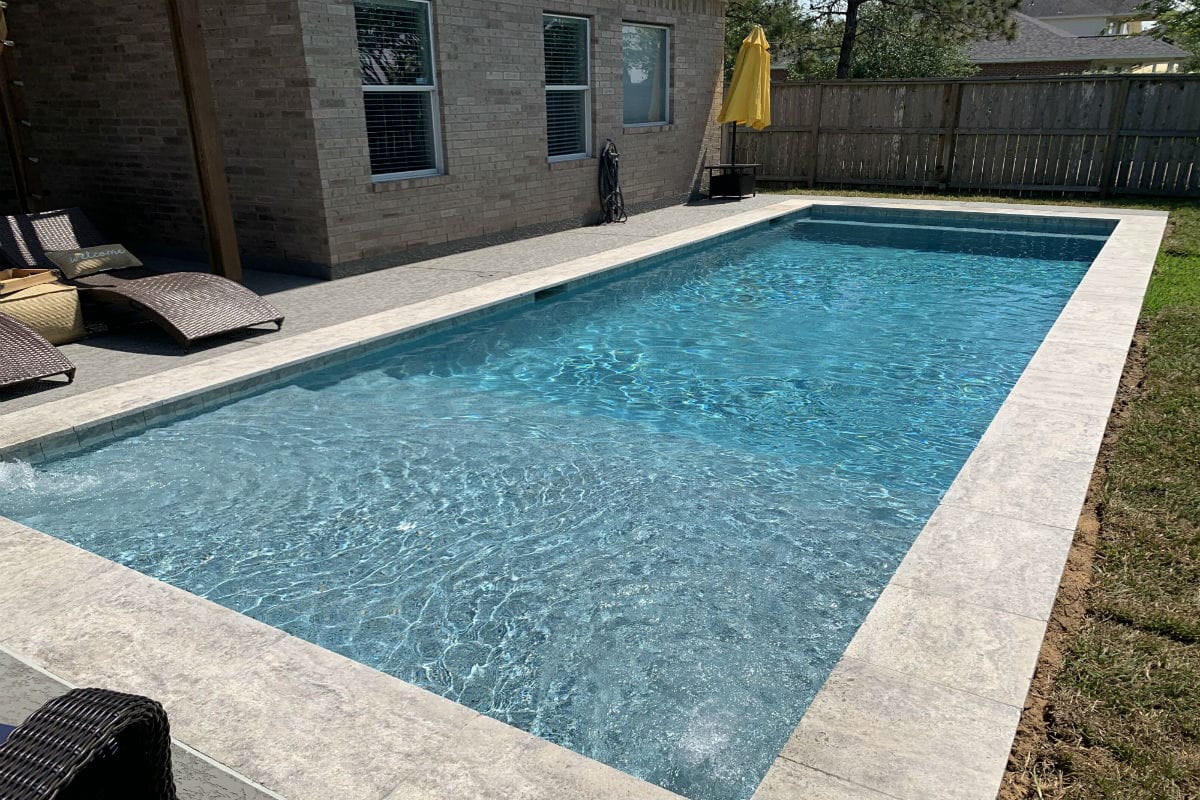 Fountains and Bubblers are Great For both Natural and Chic Pools
Some homeowners may feel like a waterfall does not fit their aesthetic but still want some of the same benefits as a waterfall. Our solution for you is water fountains and bubblers. Fountains and bubblers are a popular addition for many types of pools, from more natural-look pools to more modern and chic-style pools. They can be placed nearly anywhere you want, and they add an interesting feature that is nice to look at.
Moreover, if you add these to a shallow end of your pool, this can be a fun feature for your children and pets to play in as well. This makes your pool more accessible and enjoyable for everyone in the family.
Create a Fun Water Show with Deck Jets and Laminars
If you have a more geometric pool, such as a Roman-style pool, deck jets, and laminars are the perfect addition. Not only do they give a bit of flair, but some can be programmed to provide a little bit of a show for guests.
Depending on what you choose, these features can offer a variety of water heights and even colored LED lights. These lights add a fun and interesting feature that can make your pool even more enjoyable at night.  Choose these arching features to add a glamorous touch to your pool space.
In addition, these features still add that relaxing feature many people look for in their pool space and, depending on how many there are, can help churn the water to keep it moving in a more natural way.
Combine Water Additions to Other Features
One of the best things about water features is you can get as creative as you want with them. We may have listed a few features, but that does not mean that is all we have to offer. JR Pools Plastering & Texas Gunite Ltd. offers pool renovations that allow you to reimagine your space in a whole new way.
You can add these features to fire features such as fire bowls or even stone statues. Combine, mix, and match different additions to make your pool completely unique from anything you've ever seen before. Designing your new pool is exciting when you start to dive into all the possibilities. We encourage our clients to see our work and find inspiration to help them figure out what they want for their own personal pool space.
Whether you want something as simple as a fountain or water jets or you want to go big and have a cascading ten-foot tall waterfall, our team can make it happen.
 

 

What You Need to Consider When Adding Water Features

Adding water features to an existing pool can transform your backyard oasis into a visually stunning and relaxing space. Whether you're looking to enhance the aesthetics, create soothing sounds, or introduce a touch of luxury, there are several important factors to consider before embarking on this exciting upgrade.

Design Integration: When adding water features to an existing pool, it's crucial to ensure that the design of the features harmonizes with the overall aesthetic of your pool area. The water features should complement the existing landscaping, architecture, and style. Consider factors such as the pool shape, size, and surrounding environment to create a cohesive and visually pleasing look.

Budget: Establish a realistic budget for your water feature project. The cost can vary widely depending on the type of feature you choose, materials used, and the complexity of installation. Be sure to include not just the initial installation costs, but also ongoing maintenance expenses to keep the water features functioning properly.

Safety Measures: Safety should always be a top priority, especially when adding water features to a pool. Ensure that the water features are designed and installed with safety in mind. Features like waterfalls and fountains should have proper drainage systems to prevent water accumulation and slip hazards. Our designers at JR Pool Plastering & Texas Gunite Ltd. will be sure to design your water features you and your family's safety in mind.

Maintenance and Upkeep: Water features require regular maintenance to keep them functioning correctly and looking their best. Leaves, debris, and mineral buildup can affect the performance of the features and the pool's water quality. Factor in the time and effort needed for cleaning, as well as potential maintenance costs, when choosing the type of water feature.

Pump and Filtration System: Adding water features may impact the pool's circulation and filtration systems. It's important to evaluate whether your existing systems can handle the additional demands of the water features. You might need to upgrade your pumps and filtration equipment to ensure proper water circulation and prevent issues like algae growth.

Aesthetic Lighting: Lighting can dramatically enhance the visual appeal of water features, especially during the evening hours. Incorporate underwater and landscape lighting to highlight the water features and create a magical ambiance after sunset. LED lights are energy-efficient and provide a wide range of color options to suit your desired mood.

Permits and Regulations: Depending on your location and the type of water features you're adding, you may need to obtain permits or adhere to specific regulations. Check with your local authorities to ensure that you're compliant with any zoning, safety, or environmental requirements.

Professional Consultation: Before making any final decisions, consult with professionals such as JR Pool Plastering & Texas Gunite Ltd. Our expertise can help you navigate the technical aspects, address potential challenges, and bring your water feature vision to life seamlessly.

By carefully considering these factors, you can make informed decisions and successfully integrate water features into your existing pool, creating a captivating and inviting outdoor haven for relaxation and enjoyment.
Let Us Help with Financing Services
There is no doubt that remodeling your pool is a large investment. The more you add to your pool, the higher that price tag can go. But don't let that stop you from getting the dream pool you deserve.
Our financing services can well make your dream become a reality. We have paired with the best financing team, Lyon Financial, to help you pay for your pool space at a comfortable rate.
Lyon Financial offers unsecured pool financing solutions, meaning they do not typically require collateral. They also offer low, fixed-rate loans of up to $200,000 and terms of up to 30 years. They do not charge consulting fees and no prepayment penalties. Lyon Financial is a trusted partner of JR Pool Plastering & Texas Gunite Ltd. and has a unique experience specific to swimming pools. They are always eager to help, and we can't recommend them enough.
Start Your Pool Remodeling Today
JR Pool Plastering & Gunite Ltd. is a trusted pool replastering and remodeling company that offers many pool services. From tile coping to pool excavation, we have all your pool remodeling needs covered. We work with trusted contractors with years of experience in pool building. If ever you are tired of the way your pool looks, or it is falling apart, our team is an expert and building high quality gunite pools. This allows us to create any shape you want and add features such as water features, luxurious spas, and so much more.
Our team works closely with each one of our clients so that we ensure you get exactly what you pay for. To start your pool remodeling today, give us a call. We service locations all over the Houston area, and we want to work with you today.