Houston TX Pool Plaster Repair
JR Pool Plastering & Texas Gunite is offering our Houston TX pool plaster repair to all pool owners in the area. We can work on and help both hotel and backyard pools. A concrete pool will occasionally require renovation in order to get the most out of it.
Sometimes you get a swimming pool with your house and other times you put your buy it yourself. Either way, when the time comes around for repairs, maintenance, or renovation, you now have the freedom to do it your way. And JR Pool helps you make your backyard vision a reality.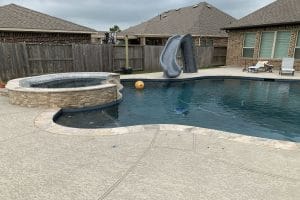 About JR Pool Plastering
We have been helping Houstonians create the outdoor experience of their dreams for decades now. Our contractors specialize in all stages of pool renovations. We do excavation, gunite and shotcrete application, tile and coping, steel/rebar, erosion control, retaining walls, and detention ponds. Our vast experience has us creating the best pools in Houston. We work alongside you and fix you up with the safest and most professional of projects.
JR Pool Plastering & Texas Gunite is locally owned and operated and has been servicing pools for over twenty years. Whether you want us to do repairs, pool remodels, or add an entertainment fixture, and our team will give you the highest-quality product. We found our company on principles of honesty, integrity, and efficiency. And so our clients can count on us with their pool upgrades and renovation projects. Your vision guides our work as we work closely to find your dream backyard pool.
Our Pool Plastering and Repairs
Over time, erosion causes cracks and blisters to form. This pool deterioration is called plaster delamination. Often what causes it is the soil eroding and shifting underneath, and tree roots can cause hairline cracks that will expand. Or a lack of moisture and excessive exposure to the sun can cause the plaster to peel or pop-off. Or a blister can occur where the plaster bubbles after its connection with the gunite sever.
While it will take a long time for a well put together the pool to experience any of these problems, they are eventually inevitable. Ideally, a pool owner replasters their pool once every ten years. But, of course, it is all dependent on the condition of your pool. If you can see any of the symptoms discussed before, you should start your Houston TX pool plaster repair on your pool's surface.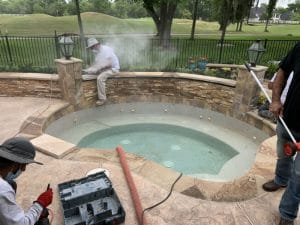 One good sign that your pool may need servicing that most people miss is the texture of its floor. The pool's surface should remain smooth. If it is now rough to the touch and swimmers are walking on the coarse ground, then it is time. A new pool should feel soft on your feet. JR Pool Plastering restores your pool's condition to be as good as new.
Water Loss
With advanced delamination, your pool can start experiencing water loss. Cracks on the plaster's surface can make leaks. Leaks can also show up in your pool's return inlets, water jets, and light fixtures. However, finding the source can be difficult, but our years of experience leave us with tried and true methods. We quickly find what is severing your current plaster from the concrete surface below.
Aesthetics
One last motivating factor behind a Houston TX pool plaster repair job is the current look of your pool. A pool is a part of your home, and when getting a pool, it becomes the central point of your yard. Having the pool you dream of undoubtedly includes one that is aesthetically pleasing to your family. Do not settle for what you have now. We can achieve the pool you envision and the one your family deserves.
After our plastering service, you will be left with a pool that is ready to use. Your 'good as new pool' will mean a surface that is not too slippery and not too rough. Your family will feel free walking and swimming comfortably in your pool.
Some of Our Other Constructions
JR Pool Plastering & Texas Gunite does much more for your pools. We can manage everything from start to finish until you end with the pool you want. We specialize in building several different add-ons to your pool area.
Pools with Spas
Adding a connected a spa to your pool plan adds a new dimension to the backyard experience. You can use it either as a smaller pool for your kids or as a hot tub. A disconnected conversational pit is essential for an adult atmosphere while others are playing. And a hot tub means your pool will get use throughout the year, rather than just a few months.
Tanning Ledge
Another way to make your pool experience more appealing to a social gathering of adults is to cater to tanning. Tanners know it does not get more relaxing than this. And a tanning ledge allows you to relax while getting in your pool, letting the water chill and refresh you. While relaxing on the ridge, parents can watch their kids playing and make sure they are safe.
Water Features
With a water feature, you spruce up your outdoor living and surrounding areas. We have a variety of options, with really endless possibilities. And we can help you find what is most fitting as an addition to your home.
We can help you create a natural pond. We find that these are immensely popular among homeowners. It merely consists of excavating a hole and filling it with either rigid or flexible liner. We can customize them to any number of designs, so a pond can really fit in any landscape.
Waterfalls, however, are even popular for backyard pools. People love the beauty that the continual trickle adds to their backyard. These cascades are the perfect backdrop for your party or kids' play.
Houston TX Pool Plaster Repair
If you see how JR Pool Plastering & Texas Gunite Ltd. can help bring your pool back to its original condition, contact us today. You may also contact our Houston location to find out more about us. Call us at (713) 729-5014 or email us through jr@jrpoolplastering.com for our Houston TX pool plaster repair.
Houston Texas Fun Facts
We are home to 4 professional sports teams: the Rockets play basketball, the Astros play baseball, the Texans play football, and the Dynamos play soccer.
Our namesake is General and President Sam Houston.
We were briefly the capital of the Republic of Texas, from 1837 to 1839.
Houston is the 4th most populated city.
For more on Houston, visit https://www.houstontx.gov/.