The Woodlands TX Pool Plaster Repair
JR Pool Plastering & Texas Gunite Ltd. is offering The Woodlands TX pool plaster repair services. Anyone in the Houston area can take advantage of our swimming pool renovations. We have worked on everything from backyard to country club, neighborhood, motel, and hotel pools. Every concrete pool eventually needs pool service and renovation.
Whether your backyard swimming pool came with your home or you made the addition yourself, the time comes for pool maintenance. Now, though, you get to do the renovations your way. From our plastering, renovations, water fixtures, and more, we can create the swimming pool of your dreams.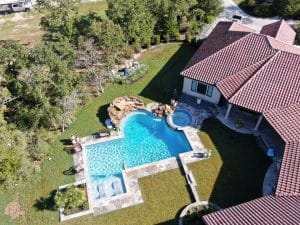 About JR Pool Plaster
JR Pool Plastering & Texas Gunite has been servicing Houston's pools for decades now. We specialize in all phases of pool construction and renovation. From excavation, rebar, gunite and shotcrete, tile and coping, erosion control, retaining walls, and detention ponds, we build the pool you envision. With over twenty years of experience, our expert practice does the best pool work in Houston and Spring TX.
We are a locally owned and operated pool company. Our business looks after our Houston residents. For pool repairs, remodels or adding a water fixture, our team gives you the highest-quality product and excellent customer service. JR Pool Plastering is founded on principles of efficiency, integrity, and honesty, so our clients can trust our product. We work closely with our clients, so it is your vision that guides our work.
Our Pool Plastering Repairs
While a well-constructed will take a long time to need repairs, it is, in the end, inevitable. Delamination refers to the deterioration of pool plaster. Cracks, blisters, bubbles, and peeling can form. Ideally, a pool owner will replaster their pool every ten years. Of course, though, it will depend on the condition of your pool at the time.
Most commonly, erosion will cause a pool to form hairline cracks that then extend outward. Soil and the ground underneath the pool can cause this. Tree roots, too, can cause these.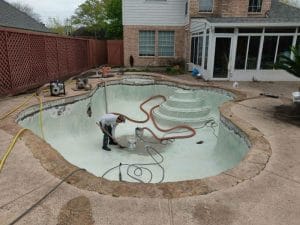 Or it can result from a lack of moisture or exposure to the sun. Bubbling of the plaster, or blisters, happen when these conditions cause the plaster to sever its connection from the concrete.
On the other hand, most pool owners miss one of the most important signs they need to replaster their pool. There is the texture of the surface of your pool. A new pool's floor is smooth. But often pool owners go so long without any maintenance or patching of the plaster that the ground is now coarse to the touch.
You deserve to have your pool feel comfortable to walk on and swim in. With JR Pool's The Woodlands TX pool plaster repair, we will have it feeling like new. The idea is for your 'good as new pool' to be not too slippery or too rough. You and your family will walk and swim comfortably in the centerpiece to your yard.
Water Loss
After advanced delamination or erosion, you can actually achieve leaks in your pool. Cracks from the plaster's surface can deepen to the concrete. Or the leak can come from light fixtures, water jets, or return inlets. Often the leak is diffusion and hard to figure out where exactly it is. But JR Pool Plastering's decades of experience has left us with tried and true methods for repairs. Our subcontractors quickly find the leak.
Backyard Beauty
Another factor behind using The Woodlands TX pool plastic repair that cannot be understated is how it beautifies your backyard. After all, your pool is a part of your home and needs to belong and compliment the rest of its architecture. And a beautiful pool is without a doubt part of your dream swimming pool. Restoring the surface, ground, and plastering of your pool is essential to getting that new sheen and look.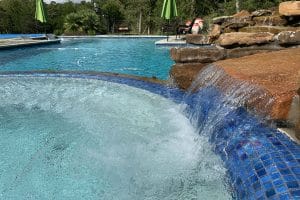 Our Other Renovations
As we have said before, The Woodlands TX pool plaster repair is not our only service. We can help you through your whole pool remodel project. We do pool renovations, apply or fix the original concrete, and can add additional water fixtures.
Home Spas
First off and most common is adding a spa to your backyard. A spa can offer several uses. For example, it serves as both a shallower pool for kids to feel comfortable playing and a hot tub for relaxation. It serves as a nice detached conversational pit with a mature atmosphere for when others are playing in he larger pool. Plus, you can actually use your pool for more than the few Summer months every year.
Tanning Ledges
Making your pool more conducive to entertaining kids and adults, friends and parents, is a great idea. Creating a tanning ledge on the shallower end of the pool does just that. Tanners know better than anyone how relaxing this set up is. You can watch and make sure your children are safe while lying a few feet away. And you dip your toes in your swimming pool too, cooled and refreshed by the water.
Water Features
Many different types of water fixtures can be what brings your outdoor living area together. And there are endless possibilities. And JR Pool Plastering and Texas Gunite can find the perfect feature for your backyard.
A natural pond has become increasingly common. It is incredibly versatile and customizable. Because we can make any design with it, you can make one that will fit any yard. Making a pond to neighbor your pool simply consists of excavating and then filling in with a rigid or flexible lining.
Even more popular, though, are waterfalls. Many enjoy the beauty that a waterfall fixture adds to their pool and the rest of their yard. The constant trickling makes a lovely backdrop for a quiet evening on the porch or the kids' play.
The Woodlands TX Pool Plaster Repair
From pool upgrades to swimming pool remodels, we can manage your entire project. If you see how JR Pool Plastering can spruce up and repair damages to your pool's plaster, contact us today. You may also visit our Houston location. Call us at (713) 729-5014 or email us through jr@jrpoolplastering.com for our The Woodlands TX pool plaster repair.
The Woodlands Texas Fun Facts
Woodlands High School is the largest high school in the state and the top in the country.
There are almost 150 parks in the Woodlands area.
We are home to Cynthia Woods Mitchell Pavilion.
For more info on The Woodlands, check out https://www.thewoodlandstownship-tx.gov/.