Houston TX Swimming Pool Renovation
JR Pool Plastering & Texas Gunite Ltd. is providing Houston TX Swimming Pool Renovation for pool owners in the area. We encourage all to take advantage of our high-quality swimming pool remodeling in Houston and Sugar Land. We have done pools for motels, hotels, neighborhoods, country clubs, and backyards. By working closely with each of our clients, we achieve the pool of their dreams.
About JR Pool Plastering
We are family-owned and operated. We serve our local Houstonian pools, all over the Greater Houston area. Plus, because we are a third-party company, we are hired by both homeowners and contractors. For over twenty years, we have provided our customers with the highest quality product and customer service. We proudly work utilizing principles of integrity, honesty, and efficiency. While we emphasize our Houston TX swimming pool renovation service, we do far more in the process:
The Pool Excavation
Laying the Rebar
Gunite and Shotcrete
Pool Tiles and Pool Coping
Erosion Control
Detention Ponds
Retention Walls
Houston Pool Renovations
After adding a pool deck to your backyard, it will come to define the rest of your yard. It will likely become the focal point of everything facing the backdoor. And it should fit and keep up with the rest of your house. A Houston TX swimming pool renovation will be necessary to keep it looking like new. We give it the TLC it needs. Visualize your outdoor space and pool, and we will do the work to make it a reality.
Pool Plaster Repair
No matter how sturdy your pool is built, the concrete does erode with time. You eventually need repairs. And they suggest getting the plaster redone every ten years. However, it does ultimately come down to the condition of your pool.
Over time, the natural elements put wear and tear on the pool. This weathering is called delamination. After enough of it, you should call your Houston TX swimming pool renovation team. One of the most common forms of delamination are cracks formed through erosion. This can consist of the soil underneath the pool shifting. Or tree roots can grow and increase the pressure underground. With cracks, we staple. Then, we fill them in and reapply new gunite and plaster.
Another problem that many run into is blistering and bubbles. When pool plaster bubbles, its connection to the gunite has been severed by low humidity and exposure to the heat. If it continues, you can see it peel and pop off and rise to the top.
While many might want to avoid pool resurfacing, it is essential to get a proper pool finish. After a few years, your pool loses its smooth surface. Swimmers should not have a problem walking on the plastered floor. It should be not too rough and not too slippery. With our plaster repair service, we can restore it to its original texture.
Water Loss
The most urgent need for pool plastering is if you have water leaking from your pool. Sometimes this can come from the delamination cracks or through return inlets, water jets, or lights. On the other hand, it can come from the gradual delamination of the pool's plaster. Concrete is not waterproof. Instead, you can have a slow diffusion through the concrete where the plaster has been chipped away.
Backyard Beauty
Applying Houston TX swimming pool renovation and repairs in order to beautify your outdoor living area is not a bad idea either. Anyway, your pool should go with and add to the architecture of your overall home. We imagine that the pool you had in mind is appealing to the eyes after all.
Other Add-On Pool Features
But plastering is, of course, not all we do. And it is not the only service that contributes to the visual appeal of your yard. From water fountains to hot tubs, we can construct a customizable space around your pool.
Home Spa
The majority of pools in backyards and hotels include a spa. These can function as a kiddie pool at home that is shallow and safe to hang out in. Or its heated waters can be the perfect way to relax in a hot tub. In addition, a hot tub will far extend the use you get out of your pool, to the fall, even the winter. Also, it provides a conversational pit away from everyone playing in the deeper end.
Tanning Ledge
Adding a tanning ledge is another excellent way to make your outdoor aquatic experience more parent-friendly. With one, you can relax in the shallows with your kids playing insight. And at your neighborhood barbecue, your friends can soak up the sun with the cool of the water beneath.
Water Feature
In the list of elegant augmentations that one can make to their pool, we would be remiss to leave out water features. With your Houston TX swimming pool renovation, you can include any number of different fixtures that liven up the experience. Our subcontractors can install waterfalls, water fountains, and more.
Natural ponds, for example, add a rustic feel to your backyard and interesting juxtaposition to your swimming pool. Plus, the way we can build ponds is incredibly versatile. After the excavation, we can fit a rigid or flexible lining. It is possible to find the right design of pond for any kind of yard.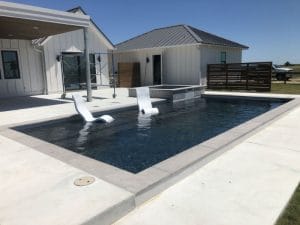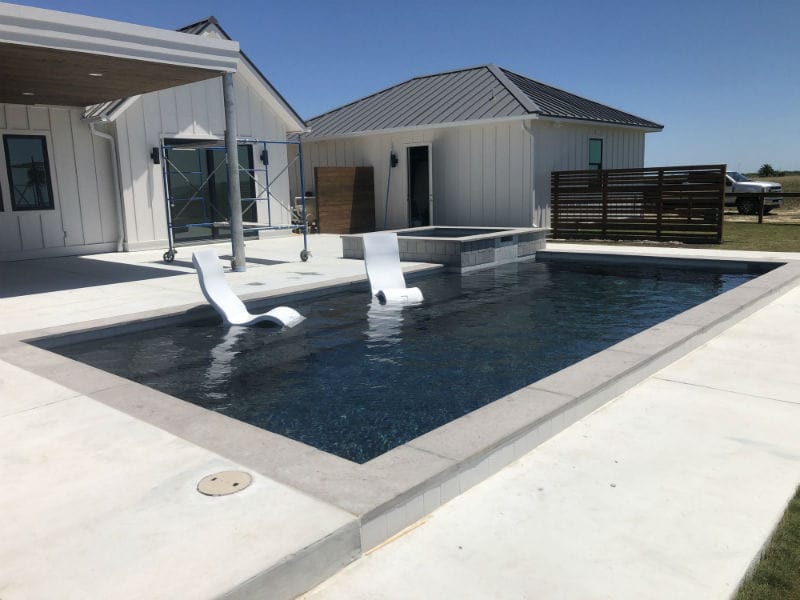 Immensely popular, waterfalls are an excellent backdrop to your tiled pool. The cascades create a graceful atmosphere. And the constant trickle of the cascades creates a peaceful ambiance for your patio. And we can make them of many styles and materials, stone, concrete, tile, and more.
Alternatively, a fountain is stylish, tasteful, and refined. You can choose from a wide variety of styles: modern, baroque, classic, and sophisticated designs.
But remember, in what we can add to your pool plan, the possibilities are endless.
Houston TX Swimming Pool Renovation
Our company stays with you through the entire project, from start to finish, excavation to tiling.
Reach out to us to start your remodeling job. Ask us about the many pool services we offer. Visit our Houston location to find more. If you see how JR Pool Plastering & Texas Gunite can brighten up your outdoor landscape, contact us. Call us at (713) 729-5014 or email us through jr@jrpoolplastering.com for our Houston TX swimming pool renovation.
Houston Texas Fun Facts
Houston home to 4 professional sports teams: the Rockets play basketball, the Astros play baseball, the Texans play football, and the Dynamos play soccer.
We were briefly the capital of the Republic of Texas, from 1837 to 1839.
Houston is the 4th most populated city in the U.S and the fastest growing.