League City TX Pool Plaster Repair
JR Pool Plastering & Texas Gunite Ltd. offers League City TX pool plaster to all pool owners in the area. Anyone in Houston or the Bay Area can take advantage of our services. JR Pool has done work on everything from backyard pools to country club, motel, hotel, and neighborhood pools. And each time, we worked hard to bring our clients the pool of their dreams.
You could have made the addition of the pool to your backyard yourself, or it might have come with the house. Either way, your concrete pool will eventually need renovations. And, this time around, you get to do it your way. With all the comprehensive list of services we do, you can be the ground-up architect to your backyard natatorium.
About JR Pool Plastering
JR Pool has been in the business of taking care of Houstonians' pools for over twenty years. And this has included all steps of the pool renovation process:
Excavation
Putting down the steel rebar
Gunite and shotcrete
Tile and coping
Erosion control
Retaining walls
Detention Ponds
With all these tools at your hand, we can get you exactly what you want.
We are a locally owned and operated company, and our business has been looking after Houston pools for decades. Our experience means we provide the best in League City TX pool plaster repair. We found JR Pool Plastering & Texas Gunite on honesty, integrity, and efficiency. So, you can trust that we will provide you with the highest-quality product and customer service. Our subcontractors work closely with you, the client, so your vision guides the end product.
Pool Plaster and Repairs
Even though a well-constructed pool will be durable and last long, every pool eventually needs repairs. It is usually recommended that you have the plaster done once every ten years. However, it, of course, comes down to the condition of your pool. But natural forces will give it gradual wear and tear, and the delamination in time requires mending.
Delamination refers to the resulting deterioration in the swimming pool. Erosion is one of the most common causes, resulting in hairline cracks that soon extend outward. What happens is, over time, the soil and ground moves and settles underneath your concrete pool. Tree roots, as well, can apply this pressure that causes that crumble. We wind up stapling and replastering over the crack, stopping it in its tracks.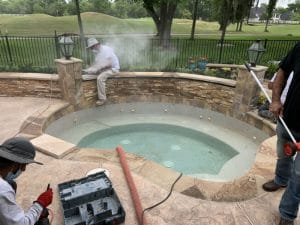 Another common symptom is the pool's plastering bubbling and forming blisters. This bubbling happens through your pool's unrestrained exposure to the heat and the sun's rays. After a while, the heat severs the plaster and gunite's connection. At the late stages of this condition, you can even see some of its rise to the top.
Besides, one of the most missed and ignored symptoms that call for replastering is the texture of your pool floor. Our League City TX pool plaster repair can repair your pools' floor to a new condition. What we mean by that is a smooth surface that is not too slippery or too rough. Too commonly, people do not realize that their feet are not supposed to feel beaten up when walking.
With our repairs, your swimmers can once again feel comfortable walking and swimming in your pool. Our patching and repairs restore it to its old condition from your first swim.
Water Leaks
Another concern from an advanced stage of erosion and delamination is actual water loss from your pool. This leakage can either come from cracks formed by soil shifting or light fixtures, return inlets, or water jets.
However, concrete is not entirely waterproof. So, it is often a slow diffusion where the plaster has worn away. Because of this, it can be challenging to determine where the leak is at. But with our years of experience, we understand the tried and true methods to locate them. You can count on our subcontractors to repair your pool plaster.
Backyard Beauty
One last factor behind getting your pool replastered that cannot be understated is restoring the old beauty of your pool. After all, it is a part of the architecture of your home. And you originally bought it or a house with a pool to complete that booming 50's suburban soirée aesthetic. We cannot imagine that a charming pool is not a part of your swimming vision. With our League City TX pool plaster repair, we restore that new pool sheen.
Some Other Pool Constructions
Swimming pool plaster repair is not JR Pool Plastering & Texas Gunite's only service. We can get your whole pool remodel project done from start to finish. From digging out your yard to establishing the rebar net, pouring the concrete, to plaster, tiling, and renovations. We also build add-ons. If you want more than a simple round pool, we can do more to complete the whole ensemble.
Home Spas
Over half those with a pool, backyard, hotel, or otherwise, have a spa included. It offers several uses, functioning as a shallower pool for kids or a hot tub. It can serve as a detached conversational pit, away from those playing. Plus, it extends the use you get out of your pool out from those few Summer months.
Tanning Ledges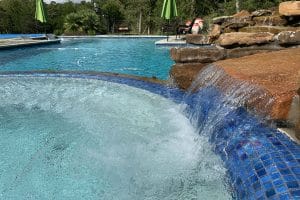 Another addition that can make your pool more adult and social gathering friendly is a tanning ledge. With this, parents can watch their kids playing safely while they relax. You feel and soak up the sun's warmth while enjoying the relaxing chill of the water under you.
Water Features
We can add natural ponds, water fountains, or waterfalls to your backyard aquatic experience. Adding a natural pond is the most versatile option. It only involves excavating and using a rigid or flexible lining, meaning we can construct one that fits any yard or pool. A fountain, on the other hand, can add an elegant ambiance to the pool. And many find the consistent trickle of a waterfall the perfect backdrop to their patio.
League City TX Pool Plaster Repair
We can give you the pool of your dreams with our swimming pool renovations, plastering, and add-on features. When providing you the pool you envision, we can handle the whole project from excavation to tiling. If you see how our pool remodeling jobs can help beautify your backyard, contact us today. You may also visit our Houston location today. For our League City TX pool plaster repair services, email us through jr@jrpoolplastering.com or call us at (713) 729-5014.
League City Texas Fun Facts
We are the third-largest boating anchorage in the U.S.
League City has 3 golf courses, 14 baseball fields, 16 soccer fields, and 11.5 miles of trails.
Voted Best Place to Live in 2011 by Bay Area Magazine.