Missouri City TX Pool Plaster Repair
JR Pool Plastering & Texas Gunite has Missouri City TX pool plaster repair services for pool owners in the area. Anyone in the Houston area should take advantage of our expert and quality services. We have done and do work on all kinds of swimming pools: backyard, neighborhood, country club, motel, and hotel pools. Our job is to work hard and achieve the pool of your dreams.
Some bought their house, and the pool came with it, and others made the addition themselves. Whichever, they require maintenance, and this includes caring for the surface of your pool's plastering. But, also, our comprehensive list of services includes far more than our pool plaster repair. Now that you are doing renovations on your pool, you can do it your way this time around. We make you the ground-up architect, following your vision for the project.
About JR Pool Plastering
Our renovators and subcontractors have been in the business of taking care of Houstonians' pools for decades now. JR Pool Plastering & Texas Gunite's work on your pool can include all steps of the process:
The Excavation
Putting Down the Steel Rebar
Gunite and Shotcrete
Tile and Coping
Erosion Control
Retaining Walls
Detention Ponds
JR Pool Plastering & Texas Gunite is a locally owned and operated company. We have served Houston for over twenty years. And that experience has served us well in providing the best in Missouri City TX pool plaster repair. Our company is founded on honesty, integrity, and efficiency, so we ensure the highest quality in customer service and product. And JR Pool subcontractors work closely with our customers, so your vision of your ideal pool guides the project.
While a well-constructed pool will be sturdy and endure, inevitably, it will need repairs. It is highly recommended that pool owners repair their pool's plaster once every ten years. However, it is, of course, far more dependent on the actual condition of your pool. Over time, the outdoor, natural forces wear and tear on your pool and cause delamination.
One of the most common form of pool delamination is those hairline cracks that form in the plaster and concrete. If left alone, they can extend and widen. Erosion and the settling of the soil and ground underneath your concrete pool cause these cracks. Besides, tree roots and the like growing and pushing around the pool. In this case, our Missouri City TX pool plastic repair means stapling the crack and reapplying the gunite and plaster.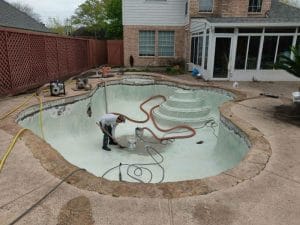 Bubbling and blistering of the plaster is another issue. Exposure to the heat and sun can sever the plaster's bond with the gunite. If this blistering is left alone, you can even see it break off and rise to the top.
Other than that, most pool owners either miss or ignore one of the biggest reasons to get a pool plastered. After a while, the surface of your pool's floor will become coarse to the touch. Your Missouri City TX pool plaster repair restores the texture of your pool. We give you the feel of a new pool, smooth, not too slippery, and not too rough. Your swimmers should feel comfortable walking on the ground beneath their feet.
Water Leakage
A cause for plaster repair urgency is water loss from your pool. If delamination continues, leaks can sprout, either from cracks in concrete, light fixtures, return inlets, or water jets. But on the other hand, the concrete is not completely waterproof itself either. If enough of the plaster has deteriorated, you can be losing water through a slow diffusion. These kinds of leaks can be hard to find, but our years of experience have led us to reliable methods.
Backyard Beauty
One benefit that your Missouri City TX pool plaster repair that cannot be understated is primping your backyard. In the end, your swimming pool should add and compliment the architecture of the rest of your home. You originally got your pool to complete your booming 50's suburban barbecue aesthetic. Do not let it go to waste. Our repairs and pool renovations provide that first idea.
Other Pool Add-On Constructions
While simple and round swimming pools are fantastic, any number of fixtures can bring them together. Once again, we are here to get you what you want. And we have plenty of options to get you there.
Your Home Spa
Most pools today include a connected spa. It is versatile, functioning as both a hot tub and a shallower pool to relax in. Kids can hang out in there safely. And it works as a detached conversation pit separated from everyone playing. Besides, it helps you get more use out of your pool, beyond those few Summer months.
A Tanning Ledge
Tanners know how relaxing these can be. Tanning ledges make your pool more adult social gathering friendly. With this, parents can watch their kids and make sure they are playing safely while relaxing in the shallows. You can soak in the sun's rays while enjoying the relaxing cool of the pool water.
Water Fixtures
Any number of water features can help bring your entire pool and backyard together. We can build you natural ponds, water fountains, water features, or any endless possibilities.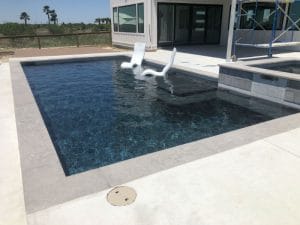 A pond is incredibly versatile. All it consists of the excavation of the hole and using a flexible or rigid lining. We can construct any sort of natural aquatic environment that fits in your yard.
Water fountains, though, can provide a grand, delicate ambiance to your yard. We add them in any number of styles, modern, baroque, classic. We can place them in built-in scones or scuppers with LED lights to liven them up.
Many pool owners add a waterfall. The constant trickle supplies the perfect background noise to their patio. And the cascades are a picturesque backdrop against the tiled pool.
Missouri City TX Pool Plaster Repair
We can provide your ideal swimming pool with our renovations, plastering, and add-on features. From the original excavation to tiling your pool, we handle the project from beginning to end. Visit our Houston location for more information. If you can see how JR Pool Plastering & Texas Gunite can make your dream pool a reality, then contact us today. Call us at (713) 729-5014 or email us through jr@jrpoolplastering.com for our Missouri City TX pool plastic repair.
Missouri City Texas Fun Facts
We had the first operating railroad in Texas.
It connected Missouri City to Los Angeles.
The Freedom Tree still stands in a historical park.