Webster TX Pool Repair Companies
JR Pool Plastering & Texas Granite is the premier provider out of all the Webster TX pool repair companies. All of Houston can take advantage of our pool repairs. And we have experience working on all types of pools: Olympic, backyard, neighborhood, country club, motel, and hotel pools. We work closely with our clients, so we build them the pool they envision.
The JR Pool Repair Company
We are a local and family-owned and operated business. We are a third-party remodeling team, meaning we work for both homeowners and pool builders. JR Pool Plastering works under principles of honesty, integrity, and efficiency. With these, we have served Houstonians' pools well. Even though we emphasize our pool renovations, we work through the entire pool installation process with you: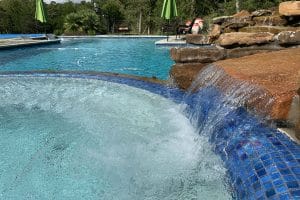 The Excavation
Putting down the Steel Rebar
Gunite and Shotcrete
Tile and Coping
Erosion Control
Detention Ponds
Retention Walls
Pool Repair Services and Renovations
While some bought their house and the pool was already there, and others made the addition themselves, your pool eventually will need repairs and renovation. Concrete is not entirely waterproof, so the plastering has to be well taken care of.
Your deck and pool define your outdoor living area. We make sure you are investing well with us to brighten up that landscape. With a connected spa, waterfall or fountain, or tanning ledge, you will be able to enjoy your perfect backyard.
Plastering
No matter how sturdy it is built, your concrete pool will need repairs eventually. Normal wear and tear will cause delamination. To fix this, we highly recommend every ten years getting your pool's plaster redone. These natural forces eventually cause these cracks, bubbles, and peeling in the plaster.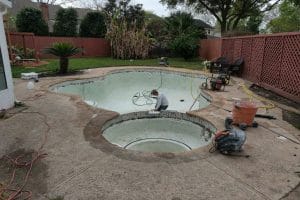 After you have had your swimming pool for a few years, a crack is relatively common. They happen due to erosion, the ground and soil moving and settling beneath the concrete. Additionally, tree roots grow and cause an increase in pressure down there. Your Webster TX pool repair companies service for these will include stapling the crack. Then, we will reapply gunite and plaster to stop the spread and restore the pool floor and wall.
Plaster bubbles and blisters are other possibilities. This happens when the pool is exposed to low humidity and excessive heat and sun, as it might outside. If you do not address these, they can peel or pop off, and you will see them rise to the top.
Most pool owners either miss or ignore this last need for plaster repairs. The texture of a pool soon wears out. A new pool's floor will be smooth, not too slippery, and not too rough. But after a while, our pool floors become coarse, and we feel them too much against our feet. Taking advantage of our plastering services will make your swimmers feel comfortable walking in the water again.
Water Leakage
If pool delamination continues, you can actually end up seeing water loss. Leaks can occur from cracks that continued to grow, return inlets, water jets, or underwater light fixtures. Although, these leaks can be hard to find. When plaster deteriorates enough, the water loss can be a slow diffusion through the not-waterproof concrete. But this Webster TX pool repair companies years of experience has given us the expertise to deal with these problems.
Backyard Beauty
Meanwhile, there is no reason to ignore another important reason to start a pool remodel. We imagine when you first envisioned a pool as a part of your home, you saw a good-looking one. After enough time, that sheen needs an update. Replastering and other renovations will have your pool looking as good as your first swim in it. Ultimately, you want your pool to compliment and match the architecture of the rest of your home.
Other Pool Add-On Constructions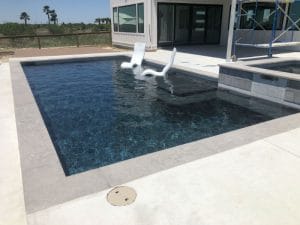 While we are helping you with your pool service, we can bring your pool together with any number of fixtures. Though a simple and round pool is an excellent addition to your yard, our array of features can provide much more.
A Connected Spa
Most pools nowadays include a spa. A connected spa helps by providing a shallower pool for kids to hang out in. Plus, you can use it as a relaxing hot tub. It functions as a beautiful conversational pit for social gatherings. And the ability to keep it heated means you can extend the use of your pool well beyond Summer months.
Tanning Ledges
A tanning ledge is another excellent way to make your pool more friendly toward adult backyard barbecues. With these, parents can relax in the shallows while they watch their kids. Also, you can soak up the warm sun on your skin while the cold water refreshes you from underneath.
Water Feature
Another way to spruce up what your pool provides for your yard is by adding an elegant water feature. There are endless possibilities for you: a natural pond, waterfall, water fountain, and more.
A natural pond can provide an added rustic look next to your pool. They are incredibly versatile, only requiring digging and a flexible or rigid lining. There is a pond design perfect for any kind of yard.
A fountain, on the other hand, gives a delicate feel to your outdoor ensemble. We install them in a variety of designs, including modern, sophisticated, extravagant, and classic looks. The customizability is limitless: scuppers or built-in sconces, or LED lights to amp up the mystery and elegance.
Waterfalls have widespread popularity in pools. The sound of the cascades gives many people their ideal patio ambiance. And the falls are a perfect backdrop in front of the pool tiles. They come in many styles, as well, from stone to concrete and more.
Webster TX Pool Repair Companies
From replastering to renovating and adding an elegant water feature, we work to get you the pool of your dreams. We stick with you through the whole project, start to finish, excavation to tiling. If you see how JR Pool Plastering and Texas Gunite Ltd.'s services can help renovate your pool, then contact us. You can reach our Houston location by calling or visiting. Call us at (713) 729-5014 or email us through jr@jrpoolplastering.com for our Webster TX pool repair companies.
Webster Texas Fun Facts
In 1903, Seito Saibara began the Japanese settlement in Webster.
Our motto is "Linked to the Future."
We were considered a village until 1958.
This area was once home to the Karankawas.
For more on Webster, TX, visit https://www.cityofwebster.com/2/Full-History.