Pearland TX Pool Plaster Repair
JR Pool Plastering & Texas Gunite Ltd. has our Pearland TX pool plaster repair open for pools in the area. We have built and remodeled everything from neighborhood to country club, motel, hotel, and backyard pools. Every concrete pool, gunite, shotcrete, eventually need repairs from normal wear and tear.
For some of us, the pool we have in our backyard was there when we bought our house. Many others went through the process of putting the pool in there themselves. Either way, the time for renovations roll around. Now, this time, you get to fix the pool up the way you want. Whether it is renovations, plastering, add-ons like water fixtures, or more, we work to create the pool of your dreams.
About JR Pool Plastering
We have been serving Houstonians for over twenty years, building and renovating their swimming pools. JR Pool Plastering & Texas Gunite specializes in all phases of pool remodel and renovation. Our subcontractors do everything from excavation, steel/rebar, gunite and shotcrete, tile and coping, and retaining walls, erosion control, and detention ponds. Your entire backyard aquatic setup will be of JR Pool's making.
JR Pool Plastering & Texas Gunite brings well over twenty years of experience to the table. As a locally owned and operated pool service company, we were founded on principles of integrity, honesty, and efficiency. You can trust us to deliver the highest quality product and customer service. Because we work closely with our clients and let their vision drive our work, we leave so many satisfied with the swimming pool they want.
Our Pool Plaster and Repairs
Even though a well-constructed pool can weather the elements a long time without needing repairs, it will require maintenance eventually. Ideally, a pool owner gets their pool's plaster repaired once every ten years. Although, it all depends on the condition of the swimming pool. The deterioration that your Pearland TX pool plaster repair deals with is called delamination. Delamination can appear as cracks, blisters, bubbles, or the peeling or popping off the plaster.
One of the more common forms of delamination is hairline cracks that extend outward. These usually result from erosion of the soil and ground underneath the concrete structure of the pool. Tree roots, too though, can result in the concrete's support shifting and buckling under the pressure.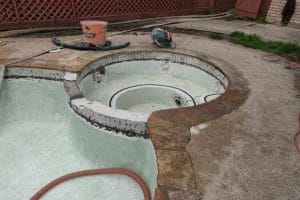 Bubbling or blistering, though, usually occurs from a lack of moisture or humidity and excessive sun exposure. These factors cause the connection between plaster and gunite to sever. Eventually, you will see pieces of plaster floating to the top. To fix this, we come in and chisel at the plaster surrounding the blister. From there, we retouch the hole.
Other than these issues, though, we have the reason to get your pool replastered that everyone misses. If the texture of your pool has changed so much over time that it is now coarse to the touch, then it is time. Your pool should feel how it did when it was new: smooth. After your Pearland TX pool plaster repair, you should have a pool floor that is not too slippery and not too rough. Your swimmers will feel comfortable walking and swimming in your pool.
Water Leakage
With extreme delamination, a pool can get to the point that it loses water. Leaks can form from deep cracks in the concrete. Or water loss might be coming from light fixtures, return inlets, and water jets. A leak could be a slow diffusion, though, and hard to locate. But our years of experience have taught us well. JR Pool Plastering has tried and true methods for finding and repairing the leak.
Backyard Beauty
Another legitimate reason that cannot be understated to get your pool plastered is to restore its original beauty. Your pool should go with the architecture of the rest of your home. And we do not doubt that the pool of your dreams includes 'pleasing to the eye' as a requirement. Going through a Pearland TX pool plaster repair process will restore your pool to that old sheen.
Our Other Pool Renovations
Of course, we do more than lay plaster on your pool. We can do add-ons from spas to tanning ledges and a multitude of water fixtures.
Home Spas
The most characteristic feature most put on their backyard, hotel, or country club pool is a spa. It can be put to many uses. It functions as a hot tub and a shallower swimming area for kids to feel comfortable in. As a detached conversational pit, a spa provides a more adult ambiance to a social gathering. And it can help give those that want to relax space away from those swimming in the major pool area. Additionally, the hot tub, too, allows you to put your pool to use for more than a few Summer months.
Tanning Ledges
Tanning is another opportunity to give adults a chance to enjoy the backyard pool. A tanning ledge allows you to layout and relaxes while you can watch and keep your kids playing safe. You can feel the warmth of the sun on your skin while you explore the cool and refreshing water under you.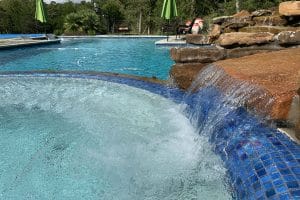 Water Fixtures
Many pool owners choose to spice up their natatorium with a water feature. And there is a multitude to choose from, so the customizable options are endless.
One of the most versatile options is the natural pond. It is only a matter of a simple excavation of a hole and then lining it with either a flexible or rigid lining. With this, you can choose the design you want and make on that fits any home.
Perhaps the most popular fixture, though, is the waterfall. Many find the quite ambiance the consistent cascade provides as the perfect backdrop for their evening on the porch.
Pearland TX Pool Plaster Repair
We take care of everything: pool upgrades, renovations, remodels, plastering, and add-ons. Our goal is to create and complete the pool you envision. If you see how JR Pool Plastering & Texas Gunite can help service your pool, then contact us today. You can also visit our Houston location for more info. For our Pearland TX pool plaster repair, call us at (713) 729-5014 or email us through jr@jrpoolplastering.com.
Pearland Texas Fun Facts
Pearland extends into three different counties: Brazoria, Fort Bend, and Harris.
Our original name was "Mark Belt."
We ranked as the 15th fastest growing city in the U.S. in 2010.
Our name comes from the pear trees our residents grew.